Toronto Free Vasectomy Clinic – Serving Southern Ontario
Welcome to the Gentle Procedures Clinic. We are dedicated to upholding the highest international standards of male surgical care while treating our patients with compassion, dignity, and respect. We offer the comfort and speed of a no-scalpel vasectomy procedure with no cost to you.
All vasectomies at our clinic are performed by an experienced urologist, and all vasectomy procedures are fully covered by OHIP with your referral.
Your out-of-pocket cost will be $0.
The full cost of your premium vasectomy is covered by OHIP.
We are proud to offer you a world-class vasectomy procedure at no cost to you. This simple, quick and virtually painless procedure is done in comfortable procedure rooms at our modern clinic.
We are proud providers of FREE no-scalpel vasectomy in Ontario. We do not charge any fees to our clients.*
Please contact us anytime with questions or to book an appointment in the coming weeks. Call now if you would like your procedure soon, and you have a doctor's referral in hand.
You can request an appointment now online, and we will email you instructions on the next steps, including how to send us the necessary doctor's referral. Once we receive your referral, an appointment will be made quickly.
*Your vasectomy procedure will be fully covered by OHIP.
Why Get a No-Scalpel Vasectomy in Toronto?
No-scalpel vasectomy surgery at our Toronto free vasectomy clinic offers you all of the following benefits:
Convenience
No incision
Quick procedure
No stitches
Fast recovery
Minimal discomfort
Effective contraception
Our vasectomy clinic team is proud to offer world-class surgical methods, and flexible booking. As soon as we receive your doctor's referral we will schedule you at the clinic location of your choice. 
Please go ahead and register online now. 
Online registration will save you a little paperwork later in the clinic. As soon as we get your form we will email you back next steps on getting and sending us your referral.
We offer the comfort and speed of a no-scalpel vasectomy procedure with no cost to you.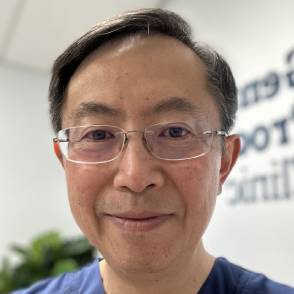 Experienced Ontario Vasectomy Doctor
Dr. Sing performs all procedures at our clinic.
Dr. Roland Sing, Urologist
Doctor Roland Sing is a Urologist with over 20 years of experience.
He is a member of the Royal College of Physicians and Surgeons of Canada, and he holds a clinical fellowship in the sub-specialty of Endourology.
No-scalpel vasectomies are a focus of Dr. Sing's practice, and he believes they can be performed safely, effectively, and efficiently in a comfortable setting.
We are offering patients techniques that are highly advanced, minimally invasive and have been performed safely on many thousands of patients in our affiliated clinics across Canada, and on millions of men around the world.
Dr. Sing performs vasectomies at the Gentle Procedures Mississauga clinic. Men travel to our clinics from all over Ontario for rapid access to no-scalpel vasectomy with Dr. Sing.
By setting up a modern vasectomy centre in Mississauga we have created a convenient situation for patients – you can be seen for your consultation and surgery soon after sending in your doctor's referral.
No-Scalpel Vasectomy Trends in Toronto
In recent years, vasectomy has experienced a steady growth in its popularity amongst Toronto and Ontario men seeking permanent contraception. This trend suggests that more and more people are recognizing the overall convenience, safety and reliability of this procedure.
Now, with the introduction of the No-Scalpel Vasectomy (NSV) technique, this procedure has become even more simple.
No-Scalpel Vasectomy in Ontario – The History
No-Scalpel Vasectomy (NSV) was developed in China in 1974 by Dr. Li Shunqiang. By 1985, an international team made up of members from the World Health Organization (WHO) and Access to Voluntary and Safe Contraception (AVSC), formerly the Association for Voluntary Surgical Contraception, were visiting China to study alternative vasectomy procedures, including NSV.
In 1988, after careful observation and review of the NSV procedure, they decided to introduce the technique to North America.
Since then, over 1,000,000 No-Scalpel vasectomies have been performed in North America and nearly 20,000,000 in China, and the numbers around the world are growing.
Our Toronto vasectomy clinic uses this advanced method and Gentle Procedures Clinics across North America have been performing scalpel-free vasectomies with great success for many years. In fact, Canada has one of the highest prevalence for vasectomy worldwide.
NSV Benefits vs. Conventional Vasectomy
No-scalpel vasectomy is a simple and elegant in-office procedure that many studies show has significant advantages over conventional vasectomy. NSV is comparatively faster, has a swifter recovery time, safer (one-eighth the rate of bleeding and infection) and can be virtually pain-free at our Toronto free vasectomy clinic.
With a conventional vasectomy procedure, a doctor would make two incisions, one on each side of the scrotum, perform the procedure, and then stitch up the incisions. The stitches would then have to be removed about a week later.
With this new approach there is no knife, no cutting incision, no stitches and no-needle. Men who have undergone NSV express amazement at the minimal physical discomfort they experienced both during the procedure and during recovery.
Men who were previously not considering vasectomy because they feared the scalpel can now feel comfortable, relaxed and confident with this simple procedure.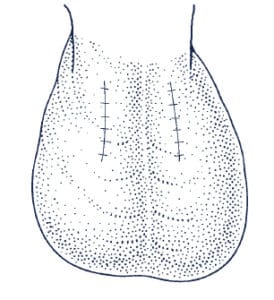 Conventional vasectomy: Two moderate incisions stitched closed.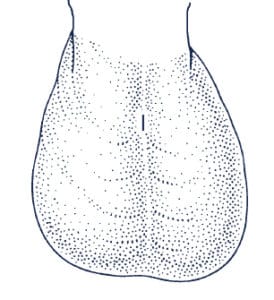 No-scalpel procedure: No stitches are needed to close the tiny opening
Call Us to Book
Or For Any Questions
Mississauga Circumcision & Vasectomy Clinic